At the age 13 I was already helping my parents in our busy corner grocery store
Life was a lot more simple when I was young. We learned from our parents, teachers and the
school of hard knocks
. We rode our bicycles to school and played outside. The Saturday movies had "News Reels" where we could actually see the news that had been on the radio. Sundays were for dressing up and going to church.
But then came technology. Television brought education, movies, news and games right into our homes. Jet engines revolutionized flight and drive-in movies, vinyl records, vacuum tubes, rotary phones and typewriters all become extinct. Color replaced black & white, tape replaced film, discs replaced tape and digital chips replaced them all.
Today, correspondence travels instantly over the
Internet
by
eMail
and pocket-size computers called
smartphones
and
tablets
have made everything digital. The cellphone and tablet have replaced the television, telephone, newpaper, camera, turntable and stereo, and even the dictionary, encyclopedia and every game imaginable.
The internet puts untold volumes of information at our finger tips. Social Media lets us share all of this and the events of our daily lives with family and friends instantly, wherever in the world they might be. Satellites provide an arial view of the entire world, land and sea. It lets us travel to unknown places safely guided by GPS (Global Positioning Satalite).
As a teenager growing up in Cincinnati, Ohio, I loved helping my parents in our busy corner grocery store, J&R Foods. We sold fresh vegetables and meats and my dad was the
butcher
. Even at the early age of 13 I worked in our store, marking canned goods, stocking shelves, cleaning fruit bins, vegetable bins, and refrigeration cases and, occassionaly, defrosting the ice cream freezer.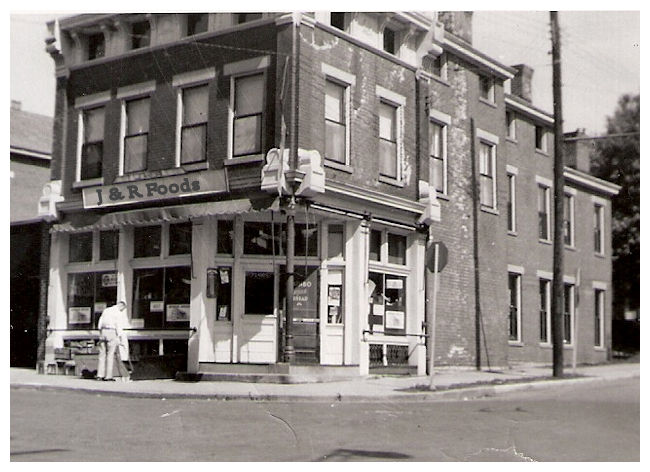 J&R Foods at the corner of Chase & Chambers Streets (c1954)
The real challenge came when my father was disgnosed with cancer. He suffered very much as a result of surgery and radiation treatments and became severly depressed. By age 16 my mother and father were divorced. Our store was open from 8 A.M. to 8 P.M. so I quit school to help in the store. The meat delivery guy taught me how to hang a side of beef in our cooler so I could "break it down" right on the hook. With each delivery he made, he taught me a little bit more about the cuts of meat. Eventually, I could slice a round steak, cut and cleaver pork chops, or tie up a rump roast as good as any butcher.
My brother and sister were still in school but we all worked in the store. We often ate dinner between customers. Some meals and desserts were made from our fresh foods that might otherwise spoil and were prepared in an electric skillet that we kept in the back of the store.
My mother was a strong lady and an astute business woman. From her I learned about cash flow, markup, profit and loss and customer relations. I was managing inventories and watching delivery men so we weren't cheated on the count. We spent idle time playing Scrabble® and we would compete on who could take the biggest grocery order over the phone and fill it from memory. Of course, delivering the order was always my job, wagon and bicycle.
But, before long there was a new sheriff in town; a trend in grocery shopping called a
Supermarket
. These big stores ran ads that tricked our customers into believing their pre-packaged goods and self-service was a better deal than our fresh foods and personal service.
I still remember a customer complaining about our price for bologna. We sold it for 69¢ a pound and the supermarket advertised bologna for 59¢. However, the "fine print" in their ad said "11 oz pkg." That customer, like many others, didn't realize that they were actually paying a whooping 86¢ a pound for their pre-packaged bologna. Our customers were'nt being cheated but they were being
out smarted
by the supermarkets. The next time someone tells you you don't need to study subjects like
algebra
, you are just being set up to be cheated.
One day I decided two could play their game. We had an overstock of canned cherry pie filling. It was February so I decided it was a good time to employ a supermarket trick to sell out that cherry pie filling. I constructed a display with an attractive sign, "Bake A Cherry Pie For Washinton's Birthday." Then I repriced our entire stock of 29¢ cans of cherry pie filling at 3-for-a-dollar. My Mother was appalled at the 13¢ price increase but we sold every can of that cherry pie filling.
While I was still in highschool, I joined the radio club where I learned electronics. At age 14 I earned my Novice
Ham Radio
license, KN8ARV, by passing the written FCC exam and sending and receiving Morse Code at 5 wpm. With the money I earned doing odd jobs, I bought a H
Although the store had become a full-time job, I was determined to finish my highschool and even had aspirations of going to college. So I began attending classes at Hughes High School at night. I had to take a city bus to school and I did my homework while watching Jack Parr on late night television.